Revive Signature Facial Treatments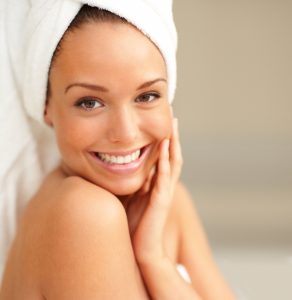 All facial treatments are customized for your skin needs. During your facial, the products used are specifically for your individual skin needs. You can Relax, Revitalize, and Renew in a professional setting and let us pamper you with unequalled personal attention. With respect for nature, we use the most natural products.
We are proud to feature the following brands : 
                                                              GMCollin, GMCollin MEDICAL,Paris
GMCollin, develops superior skin care products, from preventative care to combating the first sign of aging and for mature skin, achieving unmatched results for all skin types and condition, thanks to its recognized expertise and innovative ingredients.  The experts select innovative, high quality, and superior ingredients from around the world, they choose renewable-sourced ingredients to reduce their environmental impact and preserve the well-being of communities.  The products are derived from natural plant and marine extracts, including certified organic ingredients, and are bio-technologically developed to achieve results. The products are derived from natural plant and marine extracts, including certified organic ingredients, and are bio-technologically developed to achieve results. 
                          Paraben -free, Colorant-free, Fragrance-free
                                                   

NB (NATURAL BEAUTY)

 Products
                                                 Simple, Serious,  Unique.
E

UROPEAN REVITALIZING FACIAL
A thorough deep pore cleansing facial which includes exfoliation, soothing vapors, extraction, a relaxing acupressure face massage, neck and shoulder with penetrating cream, masque, following by toning and protective emollient.
60 min $135 
DIAMOND MICRODERMABRASION TREATMENT
refer to the services page above
Clinical Facial Treatments:
SEA C SPA FACIAL Treatment
Brightening with antioxidants : Anti-Aging
A powerful antioxidant.  It contains marine and vegetal active ingredients.This age-defying treatment is the perfect choice to reverse the visible signs of aging and energize the skin.
Reduces the appearance of signs of aging, providing long-lasting results.
Revitalizing, brightening  anti-aging treatment that helps enhance skin elasticity.
60min $150   Series of 4 $555
ALGOMASK 
SOOTHING and HYDRATING
A soothing, clinical treatment that provides immediate and long lasting hydration.  It's an enriched seaweed treatment that infuses the skin with immediate and long-lasting hydration.  The thermocooling effect on the skin minimizes the appearance of redness, making it ideal treatment for sensitive, dehydrated reacting skin.  Results in beautifully illuminated skin, instantly radiant, hydrated and soothed.
60 min $150– Series of 4– $555
HYDROLIFTING  Treatment
VISIBLE FIRMING & LIFTING
This unique clinical treatment is specifically formulated to visibly firm face and neck.  Provides intensive, immediate hydration, for a more radiant and revitalized skin.  Improves the skin's elasticity and the appearance of fine lines and wrinkles.
60 min $160– Series of 4-$620 
PARAFFIN HYDRATING HAND TREATMENT
( Add on to a facial)
Special treatment for normal, dry, or dehydrated skin. The process of warm paraffin assists The deep penetration of creams, brings color to the skin, bumps up fine lines and makes skin supple and smooth.
$25
COLLAGEN 90-II Treatment
Visible Anti-Wrinkle
Collagen is the most important protein in our skin. It makes up to 70% of the connective tissue. The collagen stimulates skin function and helps against premature aging, wrinkles and slackening of the skin. This exclusive, highly-renowned, intensely rejuvenating treatment dramatically minimizes visible lines and wrinkles. Rejuvenates and tightens the skin resulting in resurgence of a more youthful flawless appearance. Quenches the skin with moisture replenishing ingredients for a plumper, firmer, more radiant completion.  Ideal for fatigued and mature skin.
90 min $165– Series of 5 – $750 
COLLAGEN SUBLIME EYE CONTOUR

ANTI-AGING RADIANCE
Relieve puffy circles and minimize the appearance of fine lines in the delicate areas. The collagen and elastin fibers that provide the foundation for this treatment help restore the skin to its optimum condition, as the tissue bounces back to its true form.
45min $100 – Series of 5 – $450 
Add on to the Microdermabrasion Facial special rate $50
CHEMICAL PEELS
GMCOLLIN offers a variety of professional chemical peels designed to:
Reduces visible signs of aging.
Diminishes the appearance of acne. Great for acne prone skin.
Brightens the complexion, tighten's pores, smoothes lines and wrinkles.
Promotes exfoliation of skin's surface layers.
                                           Leaves the skin feeling silky soft.
  45min  – Series of 4– $540
BOTINOL (Mock Botox)
SIGNITURE ANTI-AGING
Why is Botinol so unique?
It is a clinical treatment using the latest technologies and breakthroughs in ingredients, to work as an innovative anti-wrinkle treatment, able to act against expression lines and much more.  It revitalizes and smoothes the skin, visibly reducing wrinkles. This relaxing 
treatment session offers pleasant textures and exquisite essences delivering an overall sense of well being.
After just one treatment, expression lines appear relaxed, for an immediate radiance boost.  The skin appears visibly younger.
 OXIGINATING 
REVITILIZING AND PURIFYING
A unique and revolutionary solution for oily and acne prone skin. Designed to clear the complexion, and breath life back into dull, fatigued and stressed skin. Normalizes and hydrates in depth to give the skin back its natural radiance and glow.  The skin becomes luminous, moisture-balanced, and younger looking.
BALANCING FACIAL
This specialized deep pore cleansing treatment designed to treat blemished, oily and sensitive  skin. It will help control acne breakouts and enhance healing.
60 min $160 – Series of 4-$540
AROMATHERAPY FACIAL
A deep pore cleansing facial with added healing and relaxing properties of natural plant extracts which are used to help purify, calm and restore your skin's delicate balance. Application of aromatic oil for facial and décolleté massage, followed by customized masque, toning and protective emollient. (Mention any known, and possible allergies before treatment)
60 min $155